Curriculum Vitae
---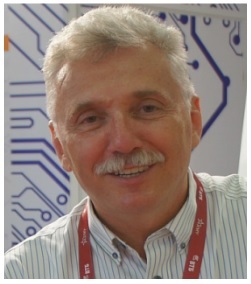 Education
Moscow Aviation Institute (State Technical University) (MAI)
Ph.D. studies (1988 – 1991). Candidate of Technical Science in Microstrip and waveguide
microwave antennas and antenna arrays ·1992.
Moscow, Russia
Moscow Aviation Institute (State Technical University) (MAI)
Engineer's degree in radio-electronics · (1975 – 1981)
Moscow, Russia
---
Work experience
"Shtyl" – Group of Companies: 2005 – June 2019
Engineering and development of a wide range of electronic and electro-technical equipment
(voltage stabilizers, DC-AC inverters, UPSs, DC and AC power systems for telecom
applications). CEO and CIO in the Moscow branch with 18 people staff. Scientific,
technical, marketing and administrative management and IT infrastructure support.
Tula and Moscow, Russia.
Autonomous Power Systems, LLC: 2000-2005
Engineering of uninterrupted power supply systems with UPS, generators, voltage
stabilizers. Installations and service of these systems.
Technical Director, CIO
Moscow, Russia
"Econika" Corporation (Currently "RUTECTOR")
Engineering, installation, and service of a wide range of industrial equipment including
electrical equipment (UPS, voltage stabilizers, HF-filters, etc), welding, pumps,
compressors, heat equipment in domestic and foreign markets.
Startup Projects Manager 1997 — 2000
Commercial Director 1995 – 1997
Head of Department of electrical equipment 1994 — 1995
IT Administrator and Database Analyst – 1992 – 1994
Moscow, Russia
Moscow Aviation Institute (State Technical University) (MAI) 1981-1988
Engineer, Researcher, Teacher in the Department of Antennas and Radio Transmitters.
Theoretical and experimental research of waveguide and microstrip patch antennas and
antenna array. Develop CAD system and computer modeling of different type antennas
and antenna arrays. Programming on Fortran for EC mainframe (clone of IBM System
370).
---
Languages
Russian (Native)
English (Professional Working)
Hebrew 
---
Summary
Candidate of technical science degree in microwave antennas and antenna arrays from
Moscow Aviation Institute (State Technical University MAI).
Experienced in the design of electrical and electronic devices, and manufacturing. Skilled in
voltage stabilizers, UPS, DC power supplies, inverters and outdoor enclosures for telecom
applications.
Good knowledge of LAN, Windows and Linux servers and work-stations administration,
mail servers, office, and business software, IP telephony.